Terminal D Common Use Premier Clubs
Following the work performed on Terminal D, McAfee3 Architects as Assigned the Foreign Flag Carriers Airline Lounges under HKS' contract. McAfee3 was commissioned to take 18,000 square feet of Terminal D, and turn it into five exclusive European styled clubs that would service 350 airline patrons. The work included space planning and design, interior finish-out, design of casework, and furniture selection. Each of the clubs, individually unique, serves a particular airline and contains a main lounge, a VIP Lounge, business centers, TV Lounge, restrooms, Children's lounge, library, places to store luggage and kitchens. Also on the club floor, are private showers, conference rooms, a smoking lounge and exclusive artwork displayed throughout.
Terminal E – Automated People Mover (Skylink) Terminal Station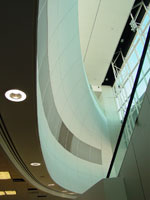 The terminal station renovation projects are part of DFW's massive capital development campaign. The new automated people mover (APM) systems connects existing Terminals A, B, C, and E with International Terminal D. This elevated structure shuttles passengers to destinations anywhere in the airport in 30 minutes or less. Architectural services for the renovation included:
providing gateways to existing terminals at the north and south ends
relocating and replacing in-kind facilities and functions that the APM station displaced
Design work included concession spaces, spaces assigned to Delta Airlines, restrooms, Delta Airlines gate counters and adjacent seating layouts, DFW administrative offices, and signage.